Introduction
I've been doing Word Families for 5 years! In that time, I have made 150 families! So this week is *pénkʷe: "five".
The *p-kʷ sequence in *pénkʷe leads to a set highly divergent forms. *kʷ is a highly variable sound on its own, becoming /kw/, /w/, /ʍ/, /k/, /t͡ʃ/, /s/, /p/, or /t/ in various descendants; in many cases with multiple branches arriving at the same sound independently at different times.
On top of that, the *p-kʷ assimilates in Germanic (progressively), Celtic, and Italic (both regressively). The regressive assimilation *p-kʷ to *kʷ-kʷ is a regular change also seen in Celtic and Italic descendants of *pekʷ-: "to cook" and *pérkʷu-s: "oak".
This is complicated by the fact that some branches in both Celtic and Italic change *kʷ to /p/ (a merger in Italic, but following deletion of *p in Celtic). And then, Vulgar Latin changed its mind about the assimilation and regressively dissimilates to /k-kʷ/. That then allows palatalization on the /k/ leading to /t͡ʃ/ (and later /ts/, /ʃ/, or /s/ in various descendants).
Some of these specifics are discussed in more detail in the footnotes.
I've included another root, Proto-Indo-European *pewǵ-: "to punch, to fist-fight". This is not so much to claim the roots are related, as that they are close enough in both sound and meaning that there are words that can't be assigned clearly to one or the other; particularly West Germanic *fūsti: "fist". The similarity also does allow for them to be potentially related, possibly with *penkʷ- coming from a re-analysis of a nasal infix form *pewǵ-, such as the one attested in Latin pungō.
Finally, as I've said before, there are reason to believe that many of the Proto-Indo-European numbers numbers are relatively recent, with only the numbers 1-3 being clearly established in Archaic PIE/Indo-Anatolian. The numbers 5-10 all have reasonably likely derivations, either as borrowings or as morphological derivations from other PIE words.
Teaser
finger, five, punch, Ponzi scheme, Pentecost
and
poignant, punch, point, punctuate, pygmy, pugnacious
Full Text
Proto-Indo-European

*penkʷ-

fist?, hand?, to hold in hand?

Proto-Indo-European

*pn̥kʷstis

Proto-Indo-European

*pn̥stis

variant with simplification

Balto-Slavic

Slavic

*pę̑stь

East Slavic

Russian

пясть

pjastʹ

Russian

запя́стье

zapjástʹje

wrist

South Slavic

Serbo-Croatian

пе̑ст

pȇst

fist

regional

Serbo-Croatian

пѐсница

pèsnica

fist

regional

West Slavic

Proto-Indo-European

*kʷn̥stis

variant with metathesis and simplification

Proto-Indo-European

*penkʷrós

Germanic

*fingraz

finger

[1]

East Germanic

Gothic

𐍆𐌹𐌲𐌲𐍂𐍃

figgrs

finger

North Germanic

Old Norse

fingr

finger

Danish

finger

finger

Icelandic

fingur

finger

West Germanic

Old English

finger

finger

Frankish

*fingar

Old High German

fingar

German

Finger

finger

Yiddish

פֿינגער

finger

finger, toe

Proto-Indo-European

*pénkʷe

five

Pre-Albanian

*penče

Old Armenian

հինգ

hing

five

Balto-Slavic

*pénkti

five

East Baltic

Slavic

*pętь

five

East Slavic

South Slavic

Old Church Slavonic

пѧть

pętĭ

five

Serbo-Croatian

пе̑т

pȇt

five

West Slavic

West Baltic

Old Prussian

*pentʲ

five

Old Prussian

pentninx

Friday

likely literally "fifth"

Sudovian

pank

five

Pre-Germanic

*pémpe

Germanic

*fimf

five

East Germanic

Gothic

𐍆𐌹𐌼𐍆

fimf

five

Crimean Gothic

fyuf

five

North Germanic

Old Norse

fimm

five

Danish

fem

five

Icelandic

fimm

five

West Germanic

Old English

fīf

five

Frankish

*finf

Old High German

German

fünf

five

Yiddish

פֿינף

finf

five

Hellenic

*pénkʷe

Ancient Greek

πέντε

pénte

five

Greek

πέντε

pénte

five

English

penta-

Aeolic Greek

πέμπε

pémpe

five

Indo-Iranian

*pánča

Indo-Aryan

*pánća

Dardic

Kashmiri

پانٛژھ

pānċh

five

Mitanni Aryan

*panća

Mitanni Aryan

*panća-vartana

for five laps

Kikkuli

Hurrian

Hittite

pa-an-za-wa-ar-ta-an-na

for five laps

Kikkuli

Sanskrit

𑀧𑀜𑁆𑀘𑀦𑁆

páñcan

five

Elu

Dhivehi

ފަހެހް

faheh

five

Sinhala

පහ

paha

five

Magadhi

𑀧𑀁𑀘

paṃca

five

Bengali

পাঁচ

pãcô

five

Rohingya

fañs

five

Maharashtri

𑀧𑀁𑀘

paṃca

five

Pali

pañca

five

Sauraseni

𑀧𑀁𑀘

paṃca

five

West Indo-Aryan

Iranian

*pánča

Avestan

𐬞𐬀𐬧𐬗𐬀

paṇca

five

Bactrian

πανζο

panzo

five

Northern Iranian

Ossetian

фондз

fonʒ

five

Sogdian

𐫛𐫗𐫝

panč

five

Pashto

پنځه

pinźë́

five

Western Iranian

Northwestern Iranian

Old Persian

Persian

پنج

panj

five

Persian

پنجاب

panjâb

Punjab, the five rivers of Punjab

lit. "five waters"

Punjabi

ਪੰਜਾਬ

pañjāb

Punjab

Italo-Celtic

*kʷenkʷe

assimilation

Celtic

*kʷenkʷe

Italic

*kʷenkʷe

Latin

quīnque

five

Vulgar Latin

*cīnque

five

[4]

Sardinian

Campidanese

cincu

Logudorese

chimbi

five

Eastern Romance

Western Romance

French

cinq

five

Italian

cinque

five

Spanish

cinco

five

Tagalog

singko

five

Spanish

Cinco de Mayo

Latin

quīntus

fifth

Latin

Quīntus

Fifth (personal name)

Western Romance

Ancient Greek

Κόϊντος

Kóïntos

Latin

Quīntīnus

Western Romance

French

Quentin

Italian

Quintino

Spanish

Quintín

Latin

Quīntīlis

July

before it was renamed after Julius Caesar

Latin

Quīnctīlius

of July (family name)

Latin

quīndecim

fifteen

Vulgar Latin

*quindece

[4]

Sardinian

Logudorese

bindighi

fifteen

Western Romance

Latin

quīncū̆nx

five-twelfths, the five on a die

Oscan

𐌐𐌖𐌌𐌐𐌄

pumpe

five

Oscan

​​𐌐𐌏𐌌𐌐𐌕𐌖𐌔

pomptus

fifth

Latin

Pontius

personal name

Western Romance

French

Ponce

Italian

Ponzio

English

Pontius

Oscan

*Pumpeis?

"of five"

Latin

Pompeius

Umbrian

𐌐𐌖𐌌𐌐𐌄

pumpe

Messapian

ΠΕΝΚΑΗΕΗ

penkaheh

five

Phrygian

ΠΙΝΚΕ

pinke

five

Tocharian

*p'äñś

Arshian

päñ

five

Kushean

piś

five

Proto-Indo-European

*pénkʷedḱomt

fifty

Old Armenian

յիսուն

yisun

fifty

Armenian

հիսուն

hisun

fifty

Hellenic

Ancient Greek

πεντήκοντᾰ

pentḗkonta

fifty

Greek

πενήντα

penínta

fifty

Ancient Greek

πεντηκοστή

pentēkostḗ

fiftieth, Pentecost

Latin

Pentēcostē

Pentecost

Indo-Iranian

*pančaHćát

Indo-Aryan

Sanskrit

𑀧𑀜𑁆𑀘𑀸𑀰𑀢𑁆

pañcāśát

fifty

Elu

Dhivehi

ފަންސާސް

fan̊sās

fifty

Sinhala

පනහ

panaha

fifty

Magadhi

Bengali

পঞ্চাশ

pôncash

fifty

Pali

𑀧𑀜𑁆𑀜𑀸𑀲

paññāsa

fifty

Sauraseni

Iranian

Avestan

𐬞𐬀𐬧𐬗𐬁𐬯𐬀𐬙

paṇcāsat

fifty

Western Iranian

Northwestern Iranian

Old Persian

Persian

پنجاه

panjâh

fifty

Italic

Latin

quīnquāgintā

fifty

Vulgar Latin

*cīnquāgintā

fifty

Sardinian

Logudorese

chimbanta

fifty

Western Romance

French

cinquante

fifty

Italian

cinquanta

fifty

Spanish

cincuenta

fifty

Tocharian

Proto-Indo-European

*pewǵ-

to punch, to fist-fight

Proto-Indo-European

*punéǵti

-n- imperfective

Italic

Latin

pungō

I puncture

Western Romance

French

poindre

to prick, to sting, to begin

Italian

pùngere

to prick, to sting, to prickle

Latin

pungēns

puncturing, stinging

Western Romance

Old French

poignant

pointed, pointy

French

poignant

English

poignant

Italian

pungente

prickly, biting, pungent

English

pungent

Latin

pūnctiō

Western Romance

Old French

ponchon

puncheon

French

poinçon

stamp, awl, punch

English

puncheon

English

punch

Italian

punzone

stamp

Spanish

punzón

awl

Latin

*impungō

Eastern Romance

Romanian

a împunge

to prod, to goad, to prick

Latin

expungō

strike out, erase

Latin

pūnctus

punctured, stippled, marked with points

Western Romance

Old French

point

French

point

point

English

point

Italian

punto

point

Spanish

punto

point

German

bunt

spotted, speckled, variegated

Vulgar Latin

punctus

Medieval Latin

pūnctus

Medieval Latin

pūnctuō

English

punctuate

French

punctuer

Latin

pūnctūra

a puncture

Proto-Indo-European

*puǵlis

Italic

Latin

pugil

boxer, pugilist

Proto-Indo-European

*puǵméh

Hellenic

*pugmā́

Ancient Greek

πυγμή

pugmḗ

fist, fistfight, distance from elbow to knuckles

Ancient Greek

πυγμαῖος

pugmaîos

pygmy

Proto-Indo-European

*puǵnós

Italic

Latin

pugnus

a fistful, a handful, a fist

Eastern Romance

Romanian

pumn

fist, punch, handful

Western Romance

French

poing

fist

Italian

pugno

fist, punch, handful

Greek

μπουνιά

bouniá

fist, punch

Spanish

puño

fist, handful, wristband, handle

Latin

pugnō

I fight, I oppose, I struggle

Western Romance

Italian

pugnàre

to fight

Spanish

puñar

to fight, to attack

Latin

impugnō

I attack, I assail

Latin

repugnō

I fight against, I resist, I struggle

Latin

pugnāx

tending to fight, combative, aggressive

Western Romance

French

pugnace

pugnacious

Italian

pugnace

pugnacious

Spanish

pugnaz

pugnacious

Proto-Indo-European

*punǵstis

Balto-Slavic

Slavic

*pę̑stь

East Slavic

Russian

пясть

pjastʹ

Russian

запя́стье

zapjástʹje

wrist

South Slavic

Serbo-Croatian

пе̑ст

pȇst

fist

regional

Serbo-Croatian

пѐсница

pèsnica

fist

regional

West Slavic

Germanic

*funstiz

West Germanic

*fūsti

fist

Old English

fȳst

fist

Frankish

*fūst

Old High German

fūst

German

Faust

fist

[2]

Yiddish

פֿויסט

foyst

fist
Visual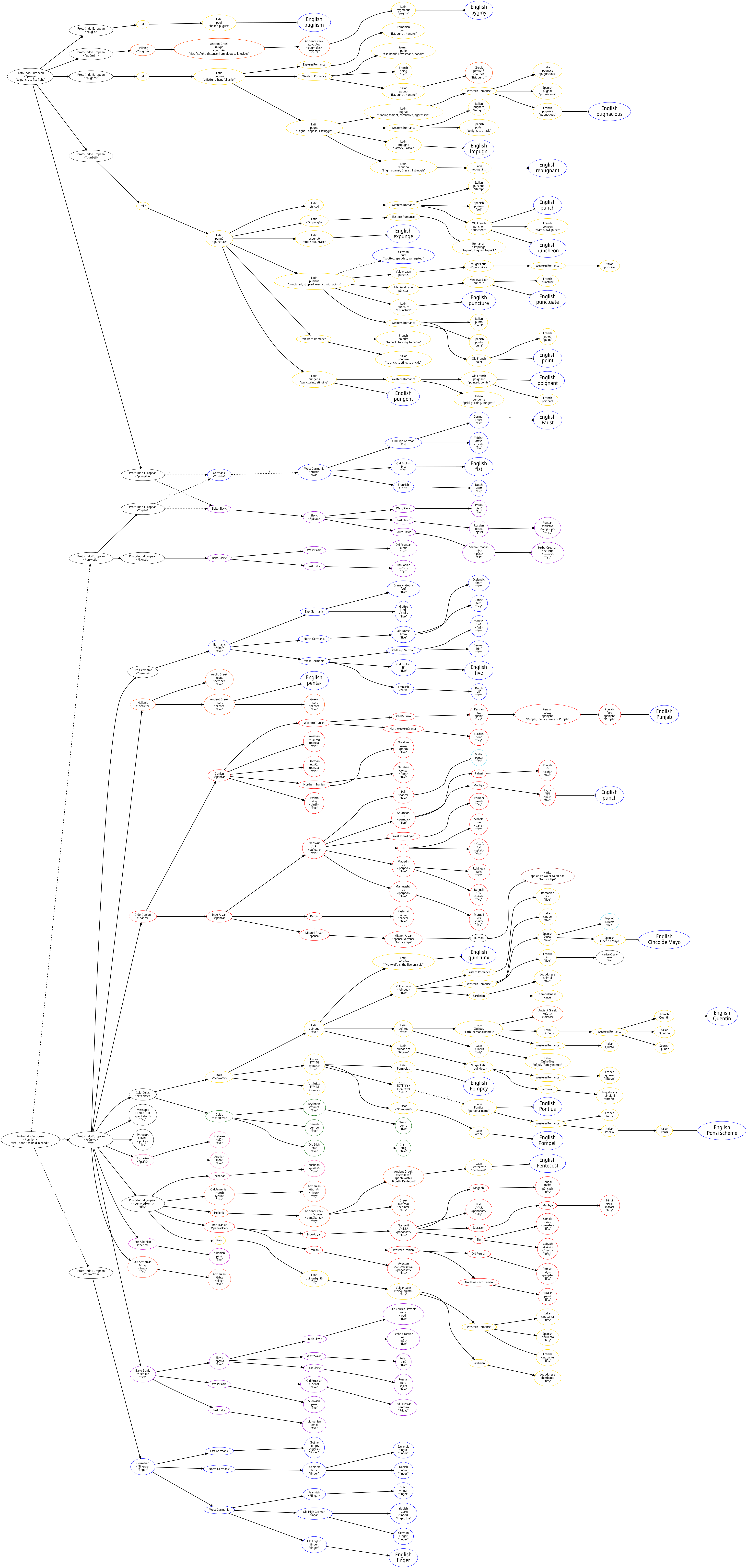 Collected English words
fist, Faust, finger, five, penta-, punch, Punjab, Cinco de Mayo, Quentin, quincunx, Ponzi scheme, Pontius, Pompeii, Pompey, Pentecost
and
poignant, pungent, puncheon, punch, expunge, point, punctuate, puncture, pugilism, pygmy, impugn, repugnant, pugnacious, fist, Faust
Footnotes